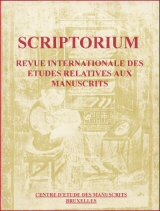 With the support of :
ACTIRIS.BRUSSELS

Fédération Wallonie-Bruxelles
Gouvernement Francophone Bruxellois (GFB - COCOF)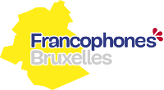 Institut de Recherche et d'Histoire des Textes (CNRS)

Who are we?
Scriptorium
Scriptorium is the international journal of mediaeval manuscript studies. It is a biannual and multilingual publication that essentially deals with codicology, the cultural context and the bibliography relating to European mediaeval manuscripts. For more information...
The Bulletin codicologique
The Bulletin codicologique is the bibliography about medieval manuscripts studies and the second part of Scriptorium. Every year, 550 reviews of articles and recent publications dedicated to European mediaeval manuscripts are published in it. For more information...
Scriptorium online
Online tools for the study of European medieval manuscripts and the index published in Scriptorium are available on the website. For more information...
Journal in Open Access
The journal Scriptorium and the Bulletin codicologique have been digitized. The issues are available on the digital library Persée.fr with a five years moving wall.