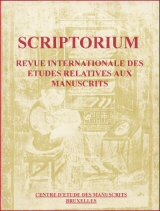 With the support of :
ACTIRIS.BRUSSELS

Fédération Wallonie-Bruxelles
Gouvernement Francophone Bruxellois
(GFB - COCOF)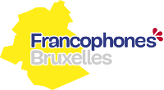 Institut de Recherche et d'Histoire des Textes (CNRS)

Who are we?
Iconographic Index
Online iconographic index of the illuminated manuscripts in the Royal Library of Belgium described in
Les principaux manuscrits à peintures de la Bibliothèque royale de Belgique
(C. Gaspar & F. Lyna).
For more information...
Scriptorium
Scriptorium
is an international journal of mediaeval manuscript studies founded in 1946. It is a biannual multilingual publication that essentially deals with codicology and the bibliography relating to European mediaeval manuscripts.
For more information...
The Bulletin codicologique
The
Bulletin codicologique
has been the bibliographical and second part of
Scriptorium
since 1959. Every year, 700 brief critical reviews of articles and recent works dedicated to the study of mediaeval manuscripts are published in it, as well as extensive index tables including the manuscripts cited throughout the journal.
For more information...
Scriptorium online
The site is the computerised part of
Scriptorium
and the
Bulletin codicologique
and has been online since 2002.
For more information...